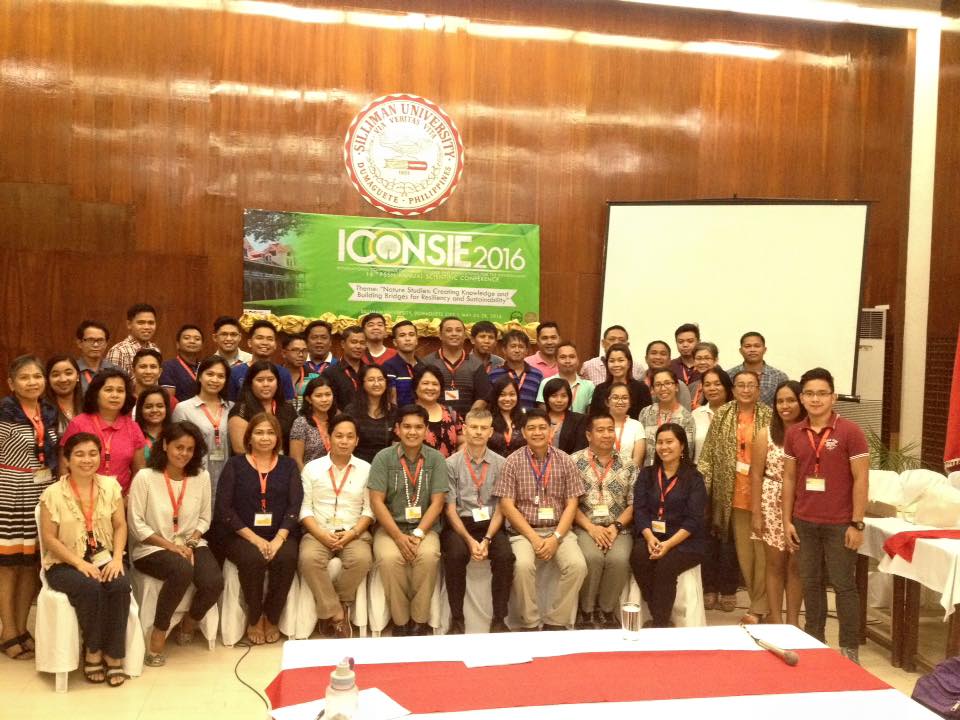 The Philippine Society for the Study of Nature, Inc. has successfully conducted its International Conference in Nature Studies and Innovations for the Environment 2016 on May 24-28 2016 at Silliman Universities, Dumaguete City. The conference is also its 16th Annual Scientific Conference, which were attended by 122 researchers, professors, scientists, and nature enthusiasts coming from different institutions and universities here in the Philippines and Indonesia.
ICoNSIE 2016 started with a pre-conference on writing a publishable paper , which were based on the format followed by the Journal of Nature Studies. Dr. Rolly G. Fuentes from UP Visayas Tacloban College, Philippines served as the resource person for the preconference workshop.
Dr. Resurreccion B. Sadaba from UP Visayas, Philippines graced the occasion and presented a keynote paper on "Creating Knowledge for Resiliency and Sustainability." The other invited speakers, Dr. Hugo Volkaert from Kasetsart University, Thailand, Ms. Veronica Magli, from Etimos, Italy, and, Mr. Manuel K. Palis from APPEND, Philippines delivered their plenary papers during the first day of the Conference.
About 16 papers vied for the Best Paper and 57 posters for the Best Poster Paper. Below is the list of the winners of the competition:
1. Best Paper (Biological Sciences Category)
Spatial Distribution Modeling of Mangrove Species in Central Cebu, Philippines by Leviticus M. Barazon Jr., Dexter S. Ontoy, and Simeon Rosel
2. Best Paper (Integrative Studies Category)
Mapping Diversity and Conservation of Traditional Agronomic Crops for Resilience and Sustainability in the Cordillera, Philippines by Belinda A. Tan-awan and Esther Josephine D. Sagalla
3. Best Paper (Social Sciences Category) 
Typhoon Seniang: Loboc Municipal Leaders' Lived Experience by Melinda Capipunsa- Elnar and Ferdinand T. Aboceo
4. Undergraduate Paper ( Special Award)
Fern Diversity in the Center for Ecological Development and Recreation (CEDAR), Impalutao, Impasug-ong, Bukidnon Province by Daniel John Christian P. Bicong, Sarah Jane B. Bonggot, Jan Riel Briones, Jude Carlo M. Labado, Kezia Emm S. Miraflor, Cindy Grace S. Abas, Melodie Claire W. Juico
Best Poster Competition Winner
Phyto -Chemical Profiling lat-lat-tan (Wild Extract Plan) and its using Molecular Approach by Lariza Mae A. Parajarilla, John Dave C. Aquino, and Jerwin Undan
During the conference, the election of the new set of officers of the Society was also done. The results are as follows:
Officers for FY2016-2017
President – Dr. Ramon Docto (PSU)
Vice-president – Dr. Lita Supsop (WPU)
Secretary – Dr. Zenaida Baoanan (UPB)
Treasurer – Dr. Arlen Ancheta (UST)
Auditor – Dr. Jesusa Ortuoste (SKSU)
PIO- Dr. Ricardo Bagarinao (UPOU)
BOT Members FY2016-2017
Dr. Cecilio Baga (CTU)
Dr. Irene De Vera (PaSU)
Dr. Romeo Gomez (BSU)
Dr. Maria Ana Quimbo (UPLB)
Ex-officio: Dr. Jose Edwin Cubelo
The Conference ended with a seminar on invasive species by Ms. Cynthia Adeline A. Layusa of National Project Coordinator, FORIS Project-Philippines. The discussion was so productive, and the participants were enlightened on the diversity of invasive species in the Philippines.
(Posted by Jhonnalene A. Manalo)