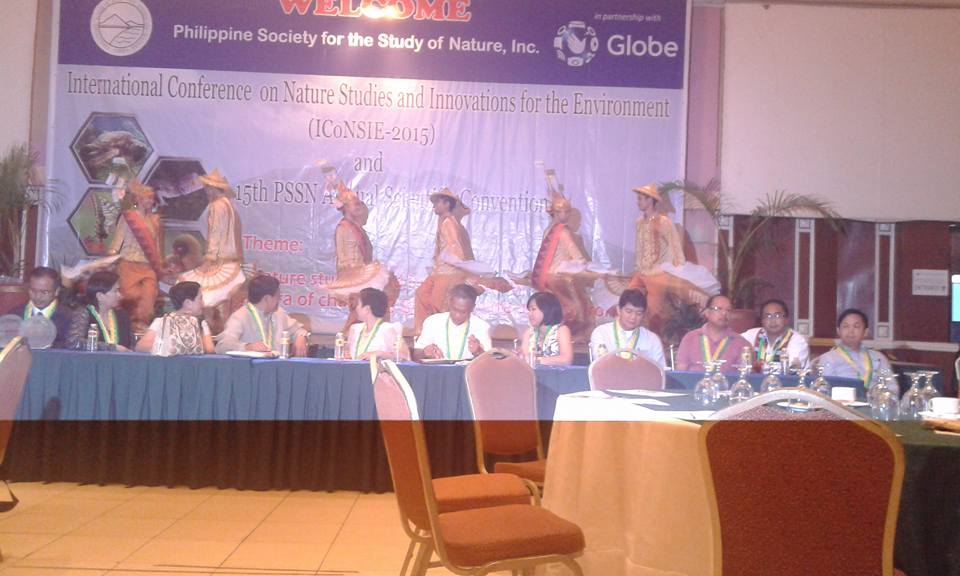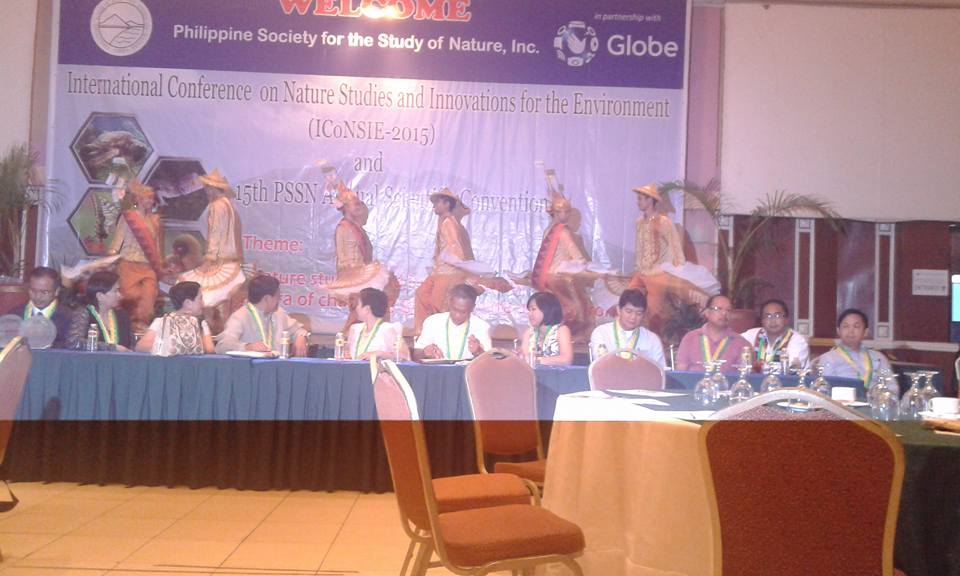 The Philippine Society for the Study of Nature, Inc. has successfully conducted its International Conference in Nature Studies and Innovations for the Environment 2015 on 24-28 May 2015 at Hotel Stotsenberg, Clark, Pampanga. The conference is also its 15th Annual Scientific Conference, which were attended by more than 200 researchers, professors, scientists, and nature enthusiasts coming from 11 countries, namely: Japan, Malaysia, Indonesia,
Saudi Arabia, South Korea, United States of America, United Kingdom, Germany, Singapore, Nigeria and the Philippines.
ICoNSIE 2015 started with a pre-conference on automating biodiversity indices, which were based on a mangrove ecosystem. Mr. Ronald de Jesus, the deputy team leader of the eUP project for UP Open University and UP Los Banos served as the resource speaker.
The conference proper has been graced by Dr. Victor B. Mariano, Regional Director of the Department of Science and Technology Region 3. Experts in various disciplines were also invited. They included Dr. David Hall, the Chief of Party of the USAID-Science, Technology, Research, and Innovation for Development (STRIDE) Program, Dr. Chew-Tin Lee, an associate professor from Universiti Teknologi Malaysia, and Dr. Ravindra Joshi, a visiting professor in Biology, University of the Philippines Baguio.
About 27 papers were competing for the Best Oral Paper and more than 100 posters competed for the Best Poster Paper. Below is the list of the winners of the competitions:
1. Best Paper (Oral)
Best Undergraduate Thesis Category
Sequestering Nickel Ions Using Molecularly Imprinted Polymers For Surface Water From Kayawyawan River, Surigao Del Sur by Adam A. Ranay, Kris Angellie I. Sotoniel, Brigette Y. Orog, and Deomila A. Basnig
Best Paper in Integrative Studies Category
Georeferencing and Characterization of Nesting Trees of Commonly Traded Wild Birds: A Community Conservation Strategy by Alejandro A. Bernardo Jr
Best Paper in Biological Sciences Category
Population dynamics and aquaculture potential of the mud clam, Polymesoda expansa (Mousson 1849) (Bivalvia: Corbiculidae) in Loay-Loboc River, Bohol, Central Philippines by Francis Albert T. Argente and Anthony S. Ilano
2. Best Poster Paper
Beneficial Microbes Control Fusarium Wilt in "Cavendish" Banana Farms
in Davao Region, Mindanao, Philippines by Belly T. Dionio, Cecirly G. Puig, Arceli G. Yebes, Mary Amor G. Figueroa, Sheryl S. Bayang, Lourdes C. Generalao and Agustin B. Molina
During the conference, the election of the new set of officers of the Society was also done. The results are as follows:
Officers 2015-2016
President – Dr. Edwin Cubelo
Vice-president – Dr. Ramon Docto
Secretary – Dr. Zenaida Baoanan
Treasurer – Dr. Arlen Ancheta
Auditor – Prof. Merites Buot
PIO- Dr. Ricardo Bagarinao
BOT Members 2015-2016
Dr. Cecilio Baga
Dr. Onofre Corpuz
Dr. Jesus Ortuoste
Dr. Romeo Gomez
Dr. Lita Sopsop
Ex-officio
Dr. Irene de Vera
The conference ended with a collaborative session in International Forum in Sustainability Science, which was organized by the Faculty of Management and Development Studies, University of the Philippines Open University.
PSSN would like to thank everyone who have endeavored to make this conference a success. The collaborators for this conference were as follows: Pampanga State Agricultural University, headed by Dr. Honorio Soriano, Jr., University President and former PSSN President and Pangasinan State University through Dr. Irene De Vera, the incumbent PSSN President.