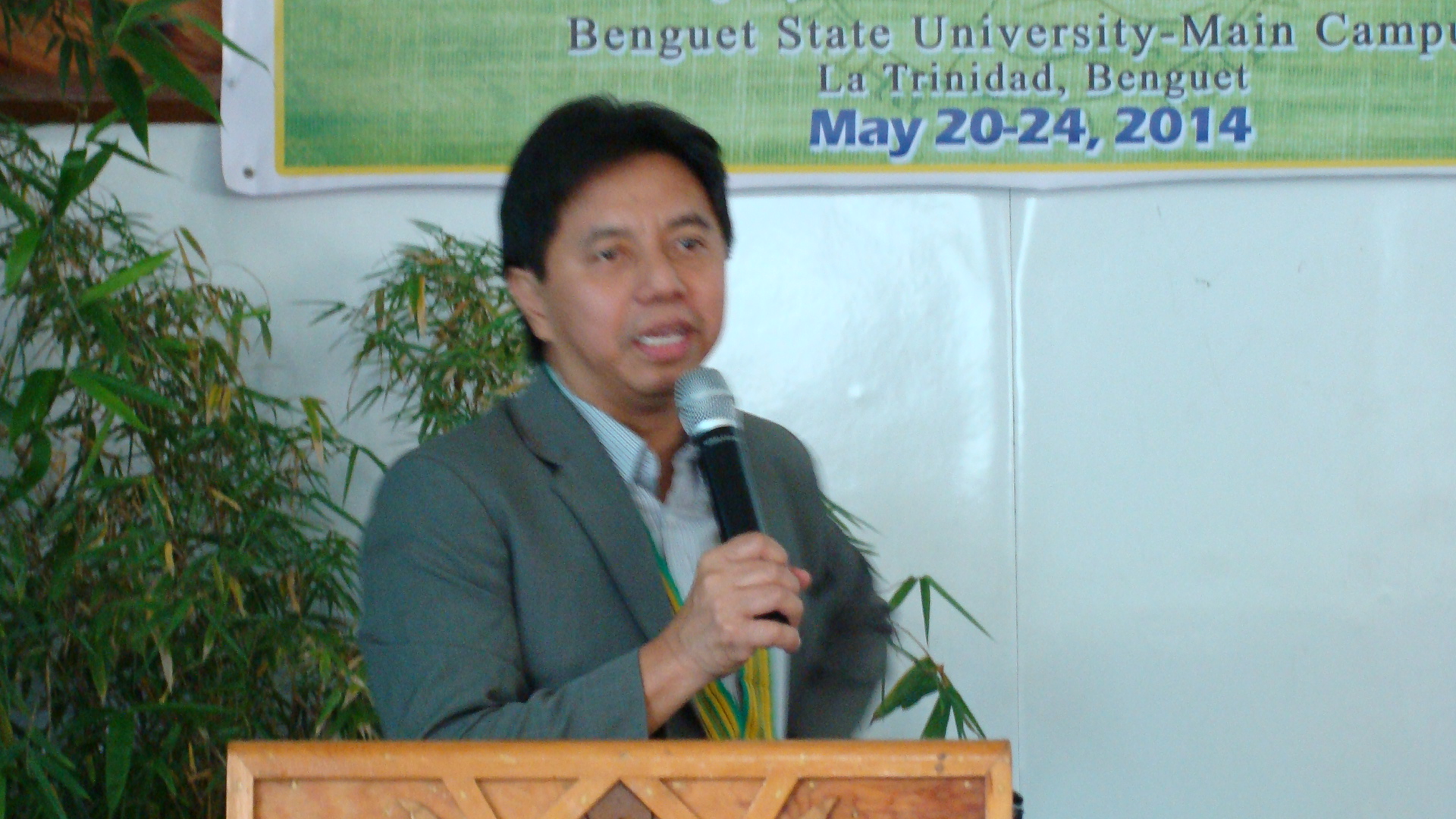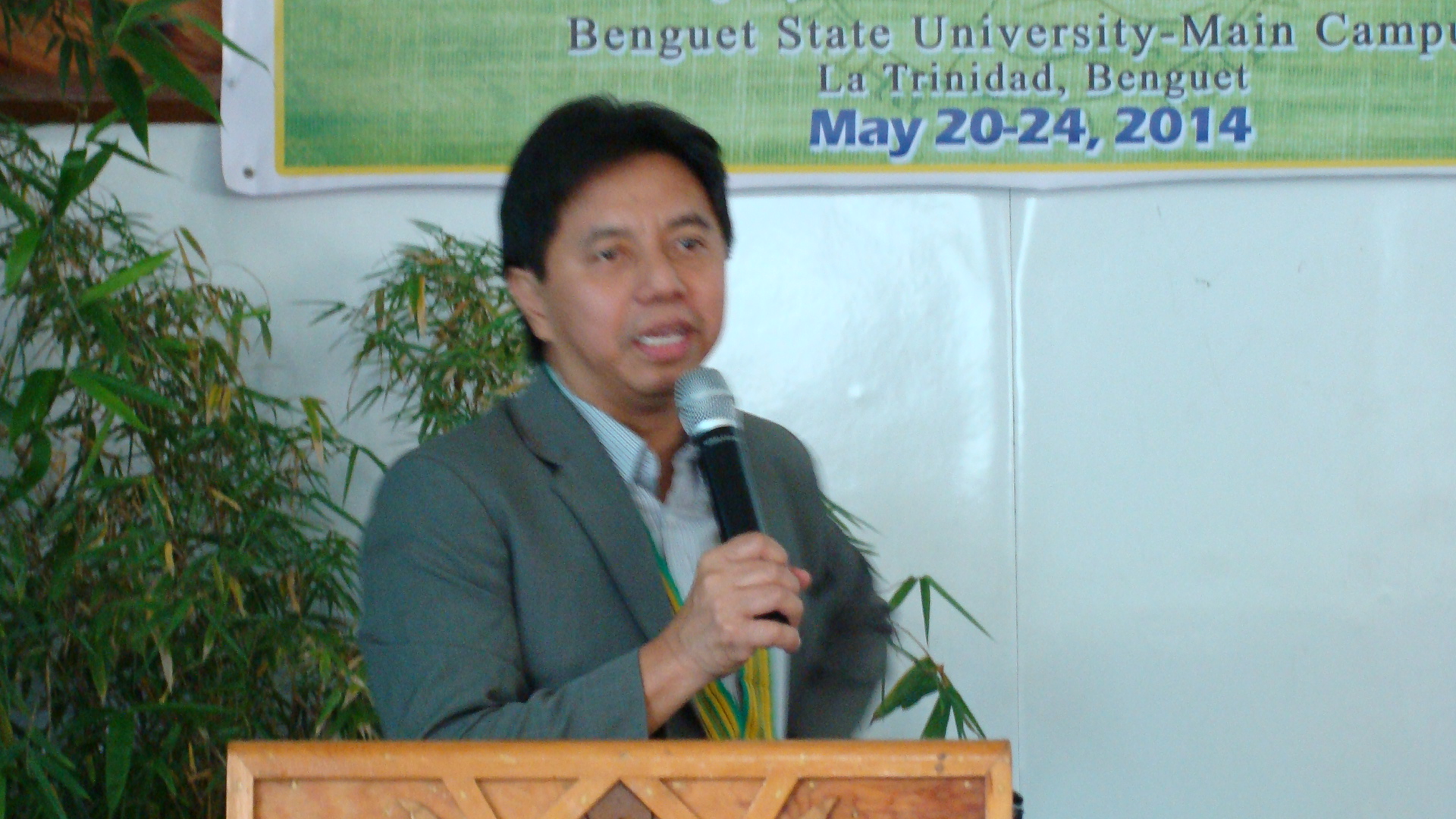 The Society had successfully hosted the 14th Annual National Scientific Conference in Benguet State University on 20-24 May 2014. With the theme "Public-Private Partnerships: Creating Possibilities for Responsible Resource Use," the conference was attended by researchers and professionals from different institutions in the country. The event was formally opened by Dr. Ben D. Ladilad, Ceso III, president of Benguet State University who at the same gave a plenary speech in Environmental Governance and People's Participation sub-theme. The Governor of Benguet, Mayor of La Trinidad, and the incumbent president of the Society, Dr. Romeo Gomez of Benguet State University heartily welcomed all participants of the conference.
The conference was highlighted with the keynote speech and plenary speeches of well-known researchers and scientist in the country and Japan. The keynote speech of Commissioner Alex Brillantes, Jr., Ph.D. of the Commission on Higher Education. Dr. Brillantes' emphasized that environmental and natural resources governance is not a responsibility of only one actor but a collaborative actions of several actors. He pointed out that public-private partnerships or PPP is a paradigm shift in governance where both government and private sectors come to specified terms and conditions for the provision of goods and services to the people. As highlighted in the presentation, PPP could offer several benefits when it is done rightly. These benefits include: mitigation and proper allocation of risks; provision of incentives for lowering the cost of venture; attraction of the right skills and management expertise; promotion of innovations; and reduction of corruption and burdens on taxpayers.
On the other hand, Dr. Pacencia Milan, professor emeritus of the Visayas State University, Leyte presented her plenary speech in partnership for environmental conservation. She emphasized that all stakeholders of the environment, which include the communities, local government, academe, nongovernmental organizations, and people's organization should work together to achieve the goal of environmental conservation. She also emphasized that successful environmental conservation efforts require proper and respectable attitudes towards the environment. Dr. Yusaku Fujii, professor of the Gunma University, Japan shared the importance of streetlights that automatically turn on and off in order to address the issue of energy shortage in the globe. Dr. Fujii shared his invention, the smart streetlight system with energy saving function based on the sensor network during the plenary session in green technology and economy. He emphasized the importance of turning off the streetlight when not in used in order to conserve energy. Peter M. Cosalan, Ph.D., adjunct professor from BSU Open University, presented a plenary paper under the sub-theme environmental education and advocacy. Meanwhile, Dr. Pastor Malabrigo presented a plenary paper under the environmental research and methods sub-theme. Dr. Malabrigo is an assistant professor of UP Los Banos, Laguna.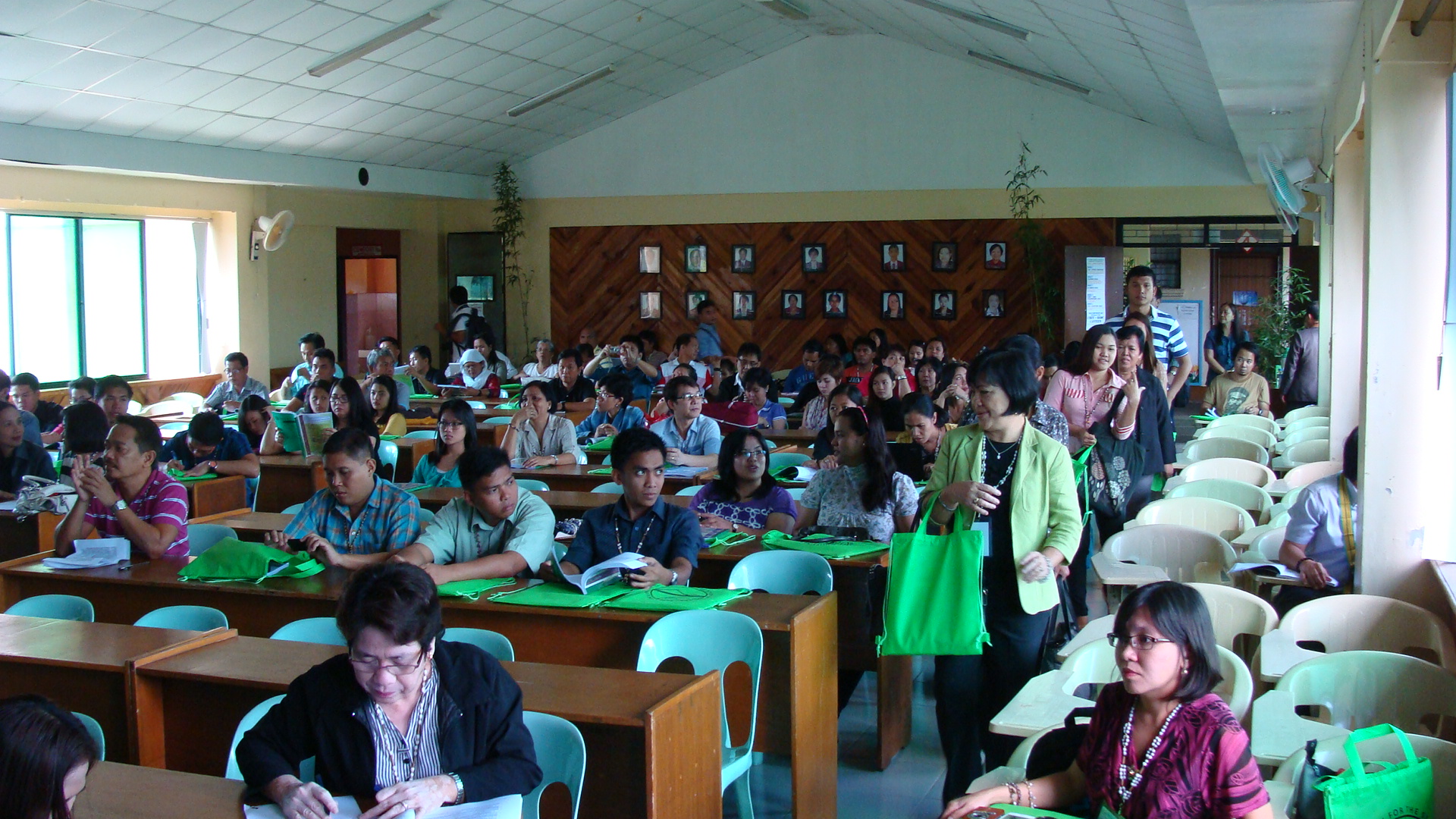 In addition, the event had attracted more than 200 papers that were submitted for presentation in five concurrent sessions. More than 25% of the papers were presented as poster papers; the rests were submitted for oral paper presentations. These papers came from researchers and scientists all over the country. Some of these papers were adjudged as best by a group of jurors. The following were selected as this year's best papers under each category:
Biological Sciences
Genetic Characterization of Half-Sib Progenies of Three Eucalyptus (Eucalyptus Deglupta X E. Pellita) Hybrids Planted in Northern Mindanao by Albert A. Piñon, Wilfredo M. Carandang, Edwino S. Fernando, Cesar C. Nuevo, Manuel L. Castillo, Marco A. Galang, and Marilyn O. Quimado
Social Sciences
Allocation and Usage of Water for Irrigation Water Governance in Sta. Cruz River Watershed, Laguna, Philippines by Lynlei L. Pintor, Josefina T. Dizon, Maria Ana T. Quimbo, Agnes C. Rola, and Quyen Dinh Ha
Integrative Studies
Pollimac Ii: A Modular Version of an Automated Pollen Image Classifier by Reginald C. Recario, John Emmanuel I. Encinas, Janelle Cristine M. Barro, Janine DG. Villate,  Arian J. Jacildo, Jasmin S. Baladad, Alejandro C. Fajardo Jr., Jaderick P. Pabico, Analinda C.  Manila-Fajardo , and Cleofas R. Cervancia
Undergraduate Thesis
Assessing the Toxicity of Pyrodinium Bahamense Var Compressum Cultures in Varying Temperature and CO2-Ph Conditions by Camille Cleo L. Lamera, Rumalyn A. Mabute, Faye Merced F. Remon and Nigel Aleksei B. Tabion, Dr.Rhodora V. Azanza (co-advisers) and Mr. Nero Austero (co-adviser), and Steve Obanan (Adviser)
High School Best Paper Citation
Cyanogenic Assessment and Toxicity Effect of the Various Cassava (Manihot Esculanta) as It Affects the Mortality Rate of Mosquito Wrigglers: A Preventive Measure for Dengue Fever by Prince Harvey Arellano, Pia Lorraine Saliente, Jana Jezelle Jare Kinazo, Jeusa Ortuoste, Merlyn Leysa
Best Posters
First Prize:
Phytochemical Analysis of Some Medicinal Plants Utilized by the Tagbanuas of Palawan, Philippines by Eva Niña B. Lopez
Second Prize:
The Diversity of Intertidal Molluscs Associated with the Mangrove Forest of Mauban, Quezon Province, Philippines by Joana Krisha E. Hirang, Kreenzel Joy D. Pagaduan, Clarivelle M. Razon, Brylle Christian A. Suilan and Steve P. Obanan
Third Prize:
Comparative Study of Hypoglycemic and Histopathological Effects of Commercial Food Supplements of Moringa Oleifera, Blumea Balsamifera, and Garcinia Mangostana on Alloxan-Induced Diabetes in Mice by Christelle Faye I. Sison and Pia Angela R. Lejano, Adviser: Ms. Thucydides L. Salunga
As traditionally done, it was also during the conference when the new set of officers was elected. The results were as follows:
PSSN Officers 2014-2015
President – Dr. Irene de Vera (Pangasinan State University)
Vice-President – Dr. Edwin Cubello (Silliman University)
Secretary – Dr. Zenaida Baoanan (UP Baguio)
Treasurer – Dr. Arlen Ancheta (University of Sto. Tomas)
PIO – Dr. Ricardo Bagarinao (UP Open University)
Auditor – Dr. Susan Ortuoste (Sultan Kudarat State University)
Board of Trustees Members
Dr. Cecilio Baga (Cebu Technological University)
Prof. Merites Buot (UP Los Banos)
Dr. Onofre Corpuz (Cotabato Foundation College of Science and Technology)
Dr. Ramon Docto (Palawan State University)
Ex-officio: Dr. Romeo A. Gomez (Benguet State University)
The 15th annual scientific convention will be held sometime in May 2015, and is tentatively scheduled in Clark, Pampanga, Philippines.