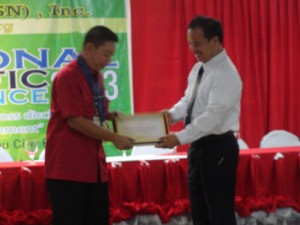 The 13th National Scientific Conference was successfully conducted last May 21-25, 2013 at the Cebu Business Hotel, Cebu City in partnership with Cebu Technological University, the home institution of the incumbent president, Dr. Cecilio S. Baga. With a theme "Global voices across disciplines for a better environment," the conference was participated in by more than 100 researchers from various institutions in the country and the globe. It was highlighted by a speech of Dr. Al Orolfo, the Regional Technical Director of the Department of Environment and Natural Resources Region 7, which was focused on the ridge-to-reef concept of nature conservation. The speech showcased the ICRMP experience of the region.
The plenary sessions were highlighted with papers from scientists here and abroad. Dr. Rex Sadaba, an Associate Professor of the University of the Philippines Visayas, presented a paper in beach forest species and mangrove associates in the Philippines. In his paper, Dr. Sadaba pointed out that these resources are among those ecosystems that were neglected and unappreciated despite their ecological and economic importance. On the other hand, Dr. Alessandro Ponzo,an Italian researcher on marine vertebrates, and currently, the Director of the Philippine Large Marine Vertebrate Project, presented a paper in whale shark conservation in the Visayas. He emphasized the challenge of finding the balance between sustainable exploitation and conservation and the role of interdisciplinary research.
With the thrust of the Society to recognize exemplary research studies from various disciplines, and to award best high school and undergraduate researches or theses, it called for submission of papers to its best paper competition. The competition was open to submissions from Biological Science, Social Sciences, Physical Science, Integrative Studies, Undergraduate, and High School papers. Among the papers who have won the best paper prize are the following: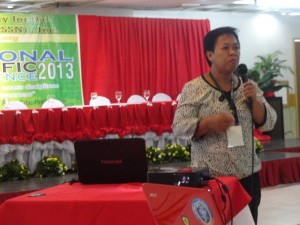 Integrative Studies category – Protected Cultivation: A Strategy to Enhance Year-Round Production of

HighValue Vegetables in the Philippines by 

Zenaida C Gonzaga, Othello B Capuno, Pedro T Armenia, Manolo B Loreto, Reny G Gerona, Lilian B Nunez, Lucia M Borines, Anabella B Tulin,  Jonathan S Mangmang, Elsie R Tauza, Dhenber C Lusanta,  Hubert B Dimabuyu, Ma. Lilia P Vega, Ken M Menz, and Gordon S Rogers
2. Biological Sciences Category – Early Development Biology of the Invasive Suckermou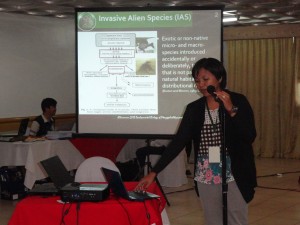 th Sailfin Catfish Pterygoplichthys pardalis Castelnau, 1855 (Pisces: Loricariidae) from the Marikina River System, Philippine by Joycelyn C. Jumawan, Benjamin M. Vallejo, Annabelle A. Herrerra
3. Undergraduate Category – Karyotype of a Minute Frog Species Oreophryne sp. (Amphibia: Anura: Microhylidae) in Agusan Marsh, Agusan del Sur, Philippines, and Notes on its Morphobehavioral Characteristics by Raul B. Balinton Jr. and Cesar A. de la Seña, Ph.D.
4. High School Category – A Study on the Effectiveness of Biofilter based on Exopolysaccharide and Limestone for Wastewater Quality Improvement by Jan Marielle R. Liza, Amira Alisha F. Gavasan, and Christine Yvonne L. Balinas
The next conference may be held in Baguio in May 2014.