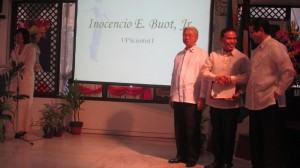 Dr. Inocencio E. Buot, Jr, PSSN's founding president, has been re-appointed UP Scientist 1 for the period of 2012-2014 by the University of the Philippines, the national university in the Philippines. The awarding was held at the Executive House, UP Diliman, Quezon City, Philippines with UP President, Pres. Alfredo Pascual, bestowing the awards. The Scientific Productivity System is UP's way of recognizing the significant contributions of its faculty members in their field of specialization. Dr. Buot's contributions in the field of botany and landscape ecology are noted in various international publications including the American Journal of Environmental Science, Asia Life Sciences, Taiwania, and Philippine Journal of Systematic Biology.
Dr. Buot has also been cited as the most outstanding botanist by the University of the Philippines Los Banos, Philippines in 2010 in recognition for his contribution to Philippine botany, and in 2007, a plant discovered in Mt. Banahaw was named after him by the world's renowned American botanist, Dr. Dale Kloppenburg. The plant belongs to the Hoya genus, and it was named as Hoya buotii in honor of Dr. Buot. H. boutii is endemic to southern Asia, Australia, and Polynesia.
Currently, Dr. Buot is the dean of the Faculty of Management and Development Studies and a professor of Ecology and Systematic Botany at the University of the Philippines Open University (UPOU), as well as the Institute of Biological Sciences (IBS), and the School of Environmental Science & Management (SESAM) at the University of the Philippines Los Baños (UPLB). He also manages, and serves as the editor of the Journal of Nature Studies, the official scientific peer-reviewed journal of the Society.