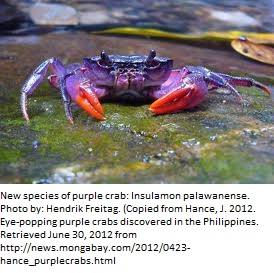 The Philippines, dubbed as the Pearl of the Orient Seas, is indeed a precious ecological habitat of a diverse species of organisms in the Southeast Asian region. Recent biological expeditions in the various parts of the country have discovered several new species of vertebrates and invertebrates. Since 2003, local and foreign biologists have identified hundreds of new species from ants to sharks, and rediscovered previously identified locally extinct  bird species, proving that the Philippines is indeed an ecological hotspot in the Asian region.
Among the species discovered recently are the following:
Among the re-discovered bird species are the following: red jungle fowl, pink-necked green pigeon, black-chinned fruit dove, pink-bellied imperial pigeon, metallic wood pigeon, Philippine hawk owl, Northern boobook, variable kingfisher, white-throated kingfisher, Philippine swiftlet, Philippine needletail, dollarbird, citrine canary flycatcher,lemon-throated warbler, plain-throated sunbird, and Philippine pygmy flowerpecker (Read More).
These discoveries and re-discoveries of species in the country indicate that the Philippines has performed an important role in the conservation and protection of globally important species. And this calls a concerted effort among the scientists, conservationists, environmentalists, government officials, academicians, decision-makers, politicians, business people, media people, and even the community to conserve and protect these precious jewels in the country. (Ricardo T. Bagarinao)